Here we are in year two of the current drought in California. It seems like we are always in a drought, just coming out of one, or heading to a new one. Let's take a look at the status of the drought, the 2018 water conservation laws (AB 1668 and SB 606), how the new laws will affect homeowners, and what we can do to make water conservation easier.
Governor Gavin Newsom did not declare a drought emergency for California this year. However, he did announce a drought emergency in Sonoma and Mendocino counties. The Marin County Municipal Water District adopted mandatory water-use restriction on April 20, 2021, with a goal of achieving a 40% reduction in water use in the district. The outlook is bleak for farmers. United States Department of Agriculture Secretary Tom Vilsack designated 50 California counties (including Amador and Calaveras) as primary natural disaster areas due to the drought in a letter to Governor Gavin Newsom on March 5, 2021. 
The Mokelumne River Watershed is in a critically dry year with runoff in the river projected at less than 376,000 acre-feet, according to the California Department of Water Resources. A normal year is approximately 724,000 acre-feet.
The 2018 water conservation laws:  AB 1668 (Friedman) and SB 606 (Hertzberg)
The Department of Water Resources (DWR) and the State Water Resources Control Board (State Water Board) will be working with stakeholders to implement the new water laws.
The new legislation provides a new long-term water conservation framework for California. This new framework is far-reaching for both the urban and agricultural sectors of California and represents a major shift in focus. Programs and initiatives are organized around four primary goals:
Use water more wisely.

Eliminate water waste.

Strengthen local drought resilience.

Improve agricultural water-use efficiency and drought planning.
To fully plan, develop and implement the new framework, DWR and the State Water Board will work closely together in collaboration with stakeholders to develop new standards for:
Indoor residential water use.

Outdoor residential water use.

Commercial, industrial, and institutional (CII) water use for landscape irrigation with dedicated meters.

Water loss.
https://water.ca.gov/Programs/Water-Use-And-Efficiency/2018-Water-Conservation-Legislation#:~:text=This%20Act%20mandated%20the%20State,capita%20water%20use%20by%202020 
How the new laws will affect homeowners
The only water-use limits that are spelled out in the new laws are for indoor residential water use. The limits are to be an average of 55 gallons per person per day by 2023, declining to 50 gallons by 2030.  At first glance the 50 gal/day figure seems very low. However, with modern low-flow fixtures, toilets, washers, and dishwashers it is not hard to achieve. I checked my own water use and was surprised to see that during the winter with no outside irrigation our water use (for my wife and I) was about 31 gal/per capita/day.
Outside water use does use the majority of water, especially homes with lawns and swimming pools. Outside water-use limits will vary depending on areas throughout the state. It is expected that areas such as the Central Valley will be able to use more water than cooler coastal regions.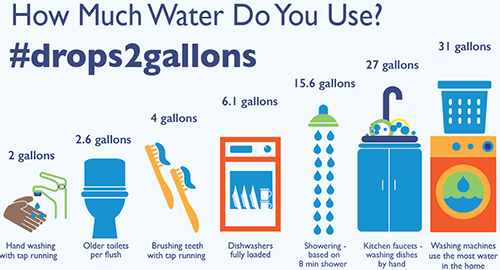 What can we do?
The best thing that we can do is use water efficiently. Ask yourself the following questions:
 Do you have high efficiency appliances? Do you have low-flow showerheads and toilets? Do you skip rinsing your dishes before putting them in the dishwasher? Did you replace your lawn with drought tolerant native plants? You might be doing more than you give yourself credit for to have that below-average water consumption!
The Alliance for Water Efficiency https://www.home-water-works.org/water-conservation-tips/home is a great resource for water conservation information.